Hey Guys…
This is a new section I'm going to be testing over the next couple of weeks.  If you find this information useful, drop me a comment to let me know.  FYI, I'll be sourcing most of the coupons I tell you about by rummaging through the Home Depot Website.
Most will not have a coupon code, but are discounted against specific purchases.  Some are strictly available for online purchase (which I have marked as such) while others are in store only.  Happy Shopping:
Coupons for Online and In-Store Purchases
Buy a Waring Waffle Maker, Get a Pancakes & Waffles Recipe Book (Expires 12/31/2010)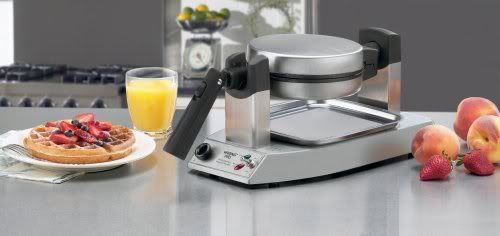 Only valid for the Waring Pro WMK300A (pictured above). You have to mail in the rebate form after purchase to get your cook book.  The cook book is written by Lou Seibert Pappas, author of 50+ recipe books.
Here's the Rebate Form: Waring Waffle Maker Recipe Book Rebate Form
Get $1000-$2000 For Buying 2+ GE Profile™ Kitchen Appliances (Expires 11/29/2010)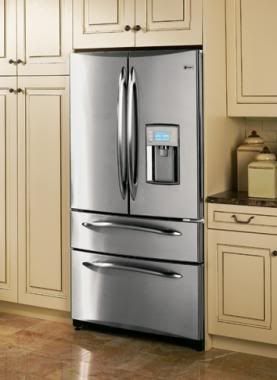 Pretty straightforward promotion.  You gotta by 2 GE Profile™ Kitchen appliances (only certain models qualify) and Home Depot will give you a Visa® prepaid card valued up to $2000. The rebate form says which models earn cash back, so give it a read.
Here's the Rebate Form: Cash Back with GE Profile™ Appliances Rebate Form
Instant Coupon Discounts – YEAH! (Expires 11/29/2010)
Pick up at least two of the following products and get $50 knocked off instantly.  Get three products and deduct $100.  Get four and the number is $200.  Not a boatload, but every penny counts.  This works both online and instore.  here's the eligible products.
Maytag  24.8 cu. Ft. French Door Refrigerator (MFF2558VEW or MFF2558VEB)
Maytag 25 cu. Ft. French Door Bottom Mount Refrigerator (MFF2558VEM)
LG 24.7-Cubic Foot Stainless Steel French Door Refrigerator (LMX25964ST)
Amana 25.1 cu. ft. Side by Side Refrigerator (ASD2522WRW, ASD2522WRB, ASD2522WRS or ASD2522WRD)
LG Fully Integrated Dishwasher with 5 Wash Cycles (LDF6920ST)
LG 24″ Tall Tub Built-In Fully Integrated Dishwasher(LDF7932ST)
Amana Full Console Dishwasher(ADB1000AWW, ADB1000AWB, ADB1000AWQ or ADB1000AWD)
Amana Full Console Dishwasher w/ 3 Wash Cycles (ADB1400AWW,ADB1400AWB, ADB1400AWQ, ADB1400AWD or ADB1400AWS)
Maytag JetClean Plus Built-In Tall Tub Dishwasher (MDBH969AWW, MDBH969AWB, MDBH969AWQ or MDBH969AWS)
Amana 30″ Freestanding Electric Range (AER5830VAW, AER5830VAB, AER5830VAD or AER5830VAS)
Amana 30″ Freestanding Gas Range w/4 Sealed Burners (AGR5844VDW, AGR5844VDB, AGR5844VDD or AGR5844VDS)
Maytag 24.8 cu. ft. French Door Refrigerator (MER7662WW, MER7662WB, MER7662WQ or MER7662WS)
LG 30″ Freestanding Electric Range (LRE30453ST or LRG3095ST)
Maytag 2.0 Cu ft 1100W OTR Microwave (MMV5208WS,MMV5208WW, MMV5208WB or MMV5208WQ)
LG Over The Range Microwave in Stainless Steel (LMV1813ST)
Coupons for In-Store Purchases ONLY

Get 200 to 1,000 Bucks for Buying 2+ GE Appliances (Expires 11/29/2010)
Another promo with a catch.  You have to buy 2 or more and they have to be  GE Café™ Kitchen appliances. They'll mail you a gift card for $1,000 when you mail the rebate form below.
Here's the Rebate Form: Cash Back with Café™ Kitchen Appliances Rebate Form
Let's Take a Breather! (The BEST is Yet to Come)
Well, this post is swelling in size so I'll have to split this coupon/rebate list up into sections.  Consider this part 1. Part 2 coming soon.. hopefully within the next couple of days.